Hybrid Solar Energy Systems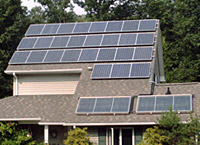 Join the growing number of customers who are utilizing multiple solar technologies to maximize their savings and further reduce their dependency on local utilities. Whether you are an existing customer of DHW, pool heating, or PV and are looking to expand your savings, or a new customer looking for ways to get the most out of your roof space, Solar Living™ can accurately size mutlitple systems to guarantee you maximum production of energy... and maximum savings of your money.
Upsize your production... not your system
Installing a DHW system alongside a PV system is the most popular choice, and wisely so. A typical DHW system needs only 64 square feet of roof space, and with that can generate an equivalent of 3KW of energy. Compare that to 64 square feet of PV panels, which will generate slightly less than 1KW. Even when roof space is limited, it can make sense to install 64 square feet of DHW panels in place of the PV panels, effectively giving you an 8KW system in the same space as a 6KW system.
Don't take our word for it...
SunEarth, Inc. put their DHW collectors to the test on their own factory in Fontana, CA. As part of their massive solar installation, they built a working display to demonstrate the difference in roof space required for both DHW and PV systems of similar output.
View their results and decide for yourself!