Solar Pool Heating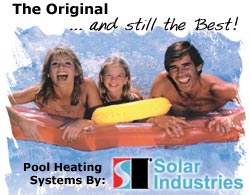 Improving your comfort level and extending the pool season are primary aspects for installing a solar pool heating system. More importantly, you can achieve significant energy savings as most installed systems require no additional energy backup. A properly sized system can keep your pool 15 degrees warmer than normal and allow comfortable swimming from mid-May until mid-September in our climate.
With over 1500 solar pool heating systems installed, Solar Living™ is the largest solar pool heating dealer in the quad state area (NY, NJ, PA, & CT). When you select Solar Living™, you are not just purchasing a solar pool heating system, you are also purchasing over 30 years experience in the solar energy field. Plus, we use only the best solar pool heating panels, manufactured by Solar Industries, right here in the USA.
Solar Industries pioneered the design and development of the original pool heating system over thirty years ago. Today, they are the largest manufacturer of Solar Collectors in the USA. Every collector is constructed under strict quality control at the most modern facility of its kind.
Experience counts most when you are considering the purchase of a solar pool heating system, and every Solar Industries system owner enjoys the benefits of over 35 years experience in design, manufacturing, and customer satisfaction. Solar Industries' systems have proven their value on tens of thousands of pools in every climate around the globe. So you can relax with the best built, best backed solar system in the world installed with the experience of Solar Living™.
When you want the very best, demand the solar pool heating system that has become the standard for an entire industry, Solar Industries Solar Pool Heating Systems. And for quality installation and service, only the 46 years of experience from Solar Living™ will do.
Start Thinking About Pool Heaters Before Spring!
Read our Angie's List Experts Article published by Solar Living™ partner Mike Mazzeo.
Thinking Of Installing A Heat Pump?
Heat Pump pool heaters are often sold as a cost effective alternative to traditional fossil fuel heaters. The downside is that even efficient (and expensive) heat pumps will consume a considerable amount of electricity to operate. Consider the following article published by the Department of Energy. The DOE also offers an estimate of electricity costs by region, and their estimates are at $.085/kwh (compared to $.17/kwh here in NJ).
ENERGY.GOV article about Heat Pump Swimming Pool Heaters
The DOE has also published a very helpful article regarding Solar Pool Heating systems.